Asheville Condo Guide [Updated April 2023]
This guide to buying a condo in Asheville will help you navigate the real estate market in one of America's most desirable cities to live in.
When I sat down to write this guide, I wanted to give a realistic take on what it's like to enter into the Asheville condo real estate market as a buyer.
Throughout the guide, I'll do my best to share information that real estate agents may be reluctant to share about our local market, and I'll drip links to dozens of other useful articles to help you get more comfortable with Asheville real estate. 
If you haven't, before we get started, take a look at my Asheville condo building directory. I've worked hard to make it the most comprehensive and detailed source of information on Asheville condos available.
Now, onto step one: Determining whether you, your budget, and your lifestyle are suited for a home, condo, or townhome in Asheville.
Read on for the Asheville Condo Guide.
Deciding Between a Home, Condo, or Townhome in Asheville
The Asheville market is primarily single family homes, but an increasing number of people are seeking out condos and townhomes as affordable alternatives to traditional detached homes.
Single family homes in the Asheville area can (but don't always) require more maintenance for the owner compared with condos. First time homebuyers and retirees may prefer less maintenance and amenities that often come with planned developments like condos or townhomes.
When comparing homes with condos and townhomes, there are additional terms and fees to consider such as the HOA (homeowner's association), CC&Rs (conditions, covenants, and restrictions), rules and regulations, condo certification, condo inspections, and financing constraints. 
Condominiums
Condos are individual units with separate ownership where you own everything within the unit except for the exterior of the building. Additionally, you own a fractional interest in common areas such as hallways, gyms, and decks, which are managed by the HOA. Asheville boasts over 40 condominium buildings with varying amenities and fee structures. Some offer private exterior space, designated parking, and even private rooftop space. It's a common misconception that condo fees are useless and make condos less affordable than single-family homes, but this is not the case.
Once you've purchased a condo, you'll discover that the legal ownership structure has little impact on your day-to-day life in the condo. However, there are restrictions to be aware of before making your purchase.
If you plan to get a mortgage to purchase a condo, the bank will conduct a "condo review." This review ensures that the building meets the bank's financing requirements. Not all condo buildings in Asheville qualify for conventional financing, and with recent changes in federal financing guidelines, it's best to verify if the building you're interested in is financeable.
Examples of Condo Buildings in Asheville: 45 Asheland Condos, 55 South Market Condos, Clingman Lofts Condos
Townhomes
Townhomes, also known as townhouses, offer a more single-family home feel with direct outside access and multiple levels.
In Asheville, they are often attached and share walls with adjacent residences. Unlike condos, townhouses usually come with private exterior spaces for exclusive use of the front or backyard. However, insurance tends to be pricier since you own the interior, exterior, and roof. HOA fee structures vary, and some require responsibility for pest control, roof repairs, fencing, exterior maintenance, yard upkeep, and trash. It's essential to review each HOA individually as they differ in structure.
Examples of Townhomes in Asheville: Southside Townhomes
CC&Rs
Condos and Townhomes have homeowner's associations which have CC&Rs, or covenants, conditions, and restrictions. They also have articles of incorporation, bylaws, and rules and regulations. The CC&Rs are created by the developer and outline the restrictions on the use of the property. They are enforceable and recorded with the County. The articles of incorporation legally establish and document the corporation for the development and the bylaws detail the activities of the board.
Bylaws
The bylaws or rules and regulations are similar to the CC&Rs, but aren't recorded with the County. They are approved by the board that oversees the corporation and detail the restrictions on the homeowners, as well as the activities and voting interest of members. 
Comparing Asheville Condos and Townhomes
Townhomes live more like single family homes than condos, but price-wise, they are not necessarily more expensive than condos in Asheville. There is such a wide variety of townhome and condo options, that it's possible to find a condo in downtown Asheville that is more expensive than a townhome 15 minutes to downtown Asheville.
Generally speaking, these are the pros of townhome living compared with condo living.
Pros:
Privacy, privacy, privacy. In a townhome, you'll have 1-2 neighbors. In Asheville, condo buildings have from 10-80+ units. 

Private outdoor space (a rear garden area, and sometimes a rooftop deck).

Easier to get financing

More freedom to renovate and alter the unit
Cons
Less inventory means you may not find something you like at the price and in the location you want
| Feature | Condos | Townhomes |
| --- | --- | --- |
| Ownership | Separated ownership; own everything within unit except exterior | Own interior, exterior, and roof |
| Common areas | Fractional ownership of common areas managed by HOA | Private exterior spaces |
| Amenities | Varying amenities with different fee structures | Attached with shared walls and direct outside access |
| Insurance | Less expensive; only need insurance for interior | More expensive; need insurance for interior, exterior, and roof |
| HOA | Varying fee structures with different responsibilities | Varying fee structures with different responsibilities |
| Mortgage financing | Condo review required; not all buildings qualify for financing | Conventional financing available for most townhomes |
Overall, both condos and townhomes offer unique benefits and challenges depending on individual needs and preferences. It's essential to do thorough research and review the HOA requirements and financing options before making a final decision.
How to Secure a Condo Mortgage in Asheville, NC
Securing a condo mortgage requires a bit of legwork, but it's worth it.
Start by connecting with two or three lenders, preferably local ones with experience in condo loans. Look for excellent rates and customer service.
Once your offer is accepted, you'll need a mortgage commitment letter. This requires submitting financial information and an appraisal of the condo. Be aware that some lenders have specific conditions to meet before closing. Don't risk losing your deposit; work with a real estate attorney and agent.
Should You Choose a Local Lender for Your Condo Mortgage?
Working with a local lender has its advantages. They know the hyperlocal real estate market and can provide better service. The downside of choosing a non-local lender with lower rates is the lack of availability when needed. The lender's experience with specific condo buildings can also affect your financing. Choose wisely to avoid headaches down the road.
Understanding the Mortgage Contingency Clause in NC
In Asheville, there is no built-in mortgage contingency clause in purchase contracts, which differs from other states. This means your due diligence deposit and earnest money deposit are at risk if your financing falls through. It's crucial to have a solid team that includes a real estate attorney and agent. A specific addendum can protect you if financing falls through, avoiding a costly break-up fee.
Do you really need a real estate agent to buy property in Asheville?
The vast majority of Asheville homes are listed in the multiple listing service through a broker who has contracted with a seller for representation in the sale of their home. The broker has typically negotiated a fee for the listing service, and through advertising in the MLS, offers a portion of that fee to cooperating brokers (if there is one) who bring a buyer.
In Asheville (and North Carolina), Buyers are not required to work with a Buyers agent. In fact, they may choose to work directly with the seller's broker because they believe that it will help them in a competitive bidding situation. The prevailing thought process is that the seller's broker won't have to share commission with a buyer broker, and the seller's broker may therefore subtly or not so subtly favor that buyer's offer. 
At face value, this could make sense, but it is also a potentially disastrous decision. Working with the seller's agent, whose loyalties are divided, divorces yourself from the opportunity to have a real advocate during contract negotiations.
Consider working with a good real estate broker if:
You're busy. You don't have time to manage the search process, including researching properties, collecting property data, setting up appointments, analyzing comps, or contract negotiations.

You are new to Asheville.

You are a first-time home buyer.

You're tired of being outbid, or you're not finding properties in your price point. 

You are not familiar with the neighborhood you're interested in.

You're buying in a competitive building or neighborhood. A good broker can find off-market options.

You're buying for investment purposes. A good broker with solid understanding of the market will help you get access to the data you need to create financial models.

You're buying a new construction or pre-construction product. Unlike the boilerplate contracts developed by the North Carolina Association of Realtors (which are approved by attorneys), developers draft their own purchase agreement. That often leaves open many more questions and potentially fewer protections for you as the consumer that would otherwise be covered in the boilerplate contract. New developments also come with a Public Offering Statement that buyers need to review and approve.

You have special purchase requirements (timeline, financing).
Important note about working with real estate agents in Asheville (or North Carolina)
We have some great consumer protection laws in NC. NC consumer protection laws require that any real estate agent provides prospective customers the Working With Real Estate Agents disclosure (it was updated recently). Every real estate licensee in NC must provide this disclosure to at/during the first substantial contact/conversation with you and before providing you with property information. This disclosure is not a contract, it is truly a disclosure, but NC wants to be sure that you have received it, that you've discussed it and understood it, and that you determine how you would like to be represented in a real estate transaction.
There are thousands of licensed agents in the Carolinas, but the bar to entry is relatively low and not reflective of any earned experience transacting in residential real estate. Below are a few indications that an agent will be an asset to you in your search:
They are intimately familiar with the neighborhood(s) you are looking in

They have at least a few year's experience

They are busy, but not so busy that they hand you off to an assistant

They work full-time

You have a good gut instinct about them (no high-pressure tactics)

They have experience with condos, co-ops, new developments, or townhouses (whichever you are focusing on)

They seem to understand your taste and sensibilities.
How to find a good real estate attorney in Asheville
North Carolina is an attorney state. This means that when you write an offer, you will name a real estate attorney in your contract and offer to purchase real estate, and that attorney will represent you on your side of the transaction. The real estate attorney will be responsible for overseeing the legal transfer of the property from the owner to you. The real estate attorney will also facilitate any custom contract language that needs to be drafted between you and the owner. 
It's a good idea to identify the attorney you want to work with early on. You don't want to rush the attorney selection process and while your real estate agent will have worked with several in town, it's a good idea to give yourself the time and space to review your options.
Here are a few suggestions for choosing a good real estate attorney in Asheville:
Choose a Local Attorney Specializing in Residential Real Estate
It is best to select an attorney who specializes in residential real estate transactions in the area where you are purchasing. Local attorneys have extensive knowledge about the local market and specific issues related to the geography. They are better equipped to address hyperlocal issues and often do not charge extra for semi-custom contract work. Local attorneys can also guide you on condo and neighborhood development practices in the County.
Avoid Transactional Firms
Try to avoid law firms that seem too transactional in nature. You want an attorney who is responsive, understands your needs, and will provide the right representation.
Get Referrals
If you are not from the area, ask your real estate broker or people you know for referrals. Your broker should offer at least three qualified attorneys in the area. Be wary of brokers who offer only one referral.
Consider Attorney Fees
Real estate attorney fees can range from $1,000 to $3,000, depending on the complexity of the transaction. Custom contract language or addenda can cost between $200 and $300 per hour. Make sure you understand the fee structure and how the fees are due at closing.
Questions to Ask Before Buying a Condo in Asheville
Finding a quality condo building in Asheville requires a substantial amount of due diligence – much of which can be done prior to ever writing an offer.
With a few exceptions, most condo buildings in Asheville have been around for 2+ years and have a track record and reputation in terms of their management, maintenance, performance, and quality.
Condo buildings in Asheville are just as diverse as the population of the city itself, so it's a good idea to have an open mind and be prepared to ask questions. Especially if it's your first time, you may not be sensitive to all the ways buildings diverge – from service and financial health, to flood zone location to short-term rental and pet policies.

Building and Ownership
What type of ownership do I have? Is it a condo or townhome?
Was this building built as a condo project, or is it a hotel or apartment conversion?
What's the developer's track record?
Location and Accessibility
What's the neighborhood like?
Who owns the real estate around the condo building?
What type of parking is available? What condos have deeded parking in Asheville? What condos come with parking in Asheville?
Are there electric vehicle charging stations in the parking garage? If not, can you pay for one to be added?
Rules and Regulations
Are Asheville condo rules overly restrictive?
Can I AirBNB my condo while I'm not there?
Can I long-term rent my condo in Asheville?
What are the restrictions against short-term rentals in Asheville?
Are pets allowed? Are there breed, size or number restrictions? Is there a fee?
What are the HOA rules?
Building Amenities and Management
What kind of amenities does the building have?
Are washers and dryers in the unit?
Can food be delivered to your door or is it delivered to a lobby area?
Can packages be delivered to your door or are they delivered to a common area?
Are there onsite storage units available? Do they come with the unit, or are they leased or purchased?
How is garbage disposed of? Are there on-floor trash chutes?
How many units in the building and how many elevators in each building?
Are the units closer to the elevator any noisier than units further away?
Has the elevator had issues in the past?
What is the security like in the building?
Is the building professionally managed or owner-managed?
What do the residents say about the building?
How many units are owned by investors and why is that important?
How many people live here year-round?
Are there upcoming special assessments?
What does the HOA master insurance policy cover?
What are the average HOA fees for condos in Asheville? What do HOA fees cover for condos in Asheville?
Is the HOA balance sheet healthy?
Are there outstanding or past lawsuits?
What type of loan can I get?
Personal Preferences
Are Asheville condos in my price range?
What building extras am I willing to pay for?
Does the design fit my lifestyle?
When can I move in?
Conclusion
As you can see, there are many factors to consider when buying a condo in Asheville, NC. By asking the right questions, you can make an informed decision that meets your needs and budget. Remember to do your due diligence before making an offer to ensure you are investing in a quality condo building.
Common Issues with Condo Buildings in Asheville
Street Level Units
Be wary of noise from the street (if the apartment faces the street) and the lobby. If you're facing the street, you may be keeping your blinds drawn much of the day for privacy.
In an elevator building, they typically sell for 10 to 20 percent less than a second floor unit and 15 to 25% less than units above the second floor.
Near Elevator/Trash Room/Mechanical Room
Elevators can send vibrations into neighboring apartments. Noise is also sometimes a problem in the form of rattling elevator cables and the chatter of neighbors waiting for the elevator (who are also privy to sounds coming from your apartment). There are a few condo buildings in Asheville where elevator vibrations/noises are audible from within the units nearest the elevator.
Trash chutes can also produce vibrations and in newer buildings some residents complain they can hear trash as it falls down the shaft, as well as the slamming door of the compactor room as residents drop off their trash.

These rooms can house boilers, a/c equipment, pumps and other devices that can produce noise, heat, or vibrations.

Near Commonspace
Foot traffic and noise from the room itself can be a problem.
Guide To Buying Pre-Construction Condos in Asheville
If you are interested in purchasing a pre-construction condo in Asheville, here's what you need to know.
New Developments in the Area
Over the last five years there have been a handful of new construction condo developments offered in the Asheville area. Notably, the Arras, 55 South Market, and 12 South Lexington, to name a few.
As of November 2021, District Brewery, a 10 unit condo development in downtown Asheville's South Slope neighborhood, received the green light to proceed with construction.
Units in each of these buildings were offered before construction began. The main plus to buying a condo before construction begins is that the pricing is usually advantageous. Developers typically release units in batches, raising the prices each time. The spread between the first sale and the last sale on a comparable unit can be as little as 5% and as much as 20%.
News: District Brewery: New Condo Development In Asheville, NC
Advantages of Buying Pre-Construction
Buying a condo before construction begins can be advantageous because the pricing is usually lower than the prices of units sold later. Developers typically release units in batches, raising prices each time. The spread between the first sale and the last sale on a comparable unit can be as little as 5% and as much as 20%.
The Myth of the Best Units
Contrary to popular belief, developers do not always offer the best units first. They often withhold a representative share of units and release them over time. At times, the best units are saved for the end to command higher prices.
Challenges of Buying Pre-Construction
The biggest challenge of buying pre-construction is that the product is not yet physical. Buyers must rely on 3-D renderings and samples of finishes. A public offering statement outlines what the developer is committed to delivering, and is the legal document driving what the developer must deliver. Renderings and pictures can help buyers visualize the final product, but the public offering statement is the most important document.
Key Questions to Consider When Buying a Pre-Construction Condo or Townhome in Asheville
Don't Get Fooled by Views
Renderings can be deceiving, and views can change over time, especially in Asheville's Central Business District. Ask for a detailed explanation of the building's view corridors and verify them in writing.
Question What's Included in the Rendering
Be cautious of what is depicted in the rendering. Verify what is included and what is an upgrade, such as fireplaces, mantles, molding, shelving, and lighting fixtures.
Check Ceiling Height, HVAC and Laundry Locations
Ceiling height is difficult to assess in renderings, so make sure to verify it in writing. Also, ask for the locations of heating and cooling units and laundry rooms.
Verify Amenities and Nearby Points of Interest
Developers often list generous amenities and nearby points of interest on their websites. Ask for specifics, such as distance to the restaurant, and verify the amenities' locations.
Understand Construction Variations
Developers are allowed to make construction variations that are considered normal. Make sure you understand what variations are permitted and to what extent. These should be listed in the contract.
Consult with Your Attorney and Real Estate Agent
Before making an offer on a unit, consult with your attorney and real estate agent. Review the public offering statement with your attorney, address any questions in writing, and get a clear understanding of the terms of the contract.
Additional Questions to Consider When Buying a Pre-Construction Condo or Townhome in Asheville
Buying a pre-construction condo or townhome can be an exciting prospect, but it's important to ask the right questions to ensure that you're making a wise investment. Here are some crucial questions you should be asking:
What's the Plan for Commercial Space on the Ground Floor?
If you're considering a pre-construction condo or townhome, it's important to know whether there will be commercial space on the ground floor. Will it be a good fit for the community's vibe, and how will the developer ensure that it is? Make sure to get all the details before making a purchase.
Who is Responsible for Final Details?
Another important question to ask is who will be responsible for final details like door stops, towel bars, and toilet paper holders. Will it be the developer, or will the buyer be responsible for these minor details? Knowing the answer can save you time and money down the line.
Where will the HVAC System and Ducts be Placed?
Knowing the location of the HVAC system and ducts will help you better plan your space and furniture layout. Additionally, it's important to ask about the model number of the HVAC system that will be purchased for your unit.
What's Included in the Budget?
It's important to know what the budget includes. Will it cover all the expenses associated with the pre-construction process, or will there be additional costs to consider?
When Will Amenities be Available?
Finally, it's important to ask when the amenities will be available. While some may be ready when you move in, others may not be ready for a while. Knowing the timeline for amenities can help you plan your move-in accordingly.
New Construction Condo Projects in Asheville, North Carolina
There are several new construction condo projects under development in Asheville: The Haywood, The Landings, and The Broadway. The most recently approved condo project is District Brewery, a mixed-use building in Asheville's "South Slope" neighborhood.
Financing New Construction Condos in Asheville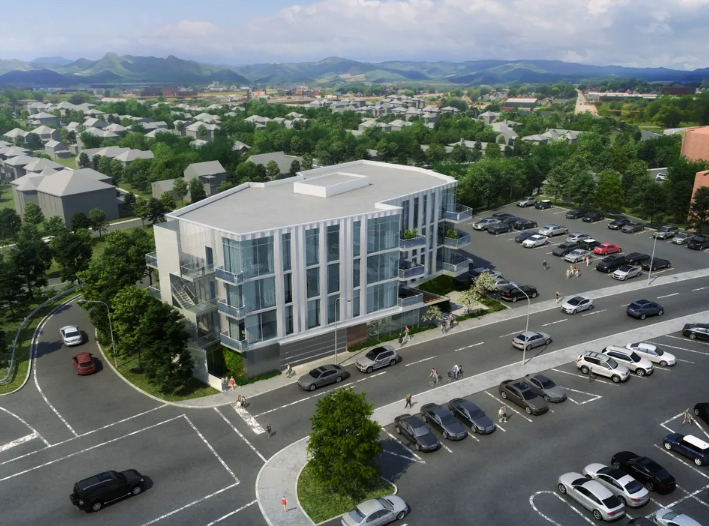 Financing a new construction condo in Asheville can be challenging. Lenders must approve the building and borrower, and the building must meet additional criteria to be financeable.
Building Approval Requirements
Lenders will typically require that at least 50% of the units in the building are under contract or sold to finance a purchase. If a developer owns more than 50% of the apartments, financing may be difficult. Banks are reluctant to issue mortgages in buildings with high investor or sponsor ownership.
Certificate of Occupancy Requirements
Before issuing a mortgage, lenders require that the building have a Certificate of Occupancy or Temporary Certificate of Occupancy issued by the Department of Buildings. Without this, financing may be difficult.
Working with a Real Estate Agent
Navigating the financing process for a new construction condo can be complex. Working with a knowledgeable real estate agent can help you understand the requirements and increase your chances of success.
Asheville Condo Experts
Ready to get started on your search for a condo or townhome in Asheville? Send me a quick message or text at 828-412-0678.